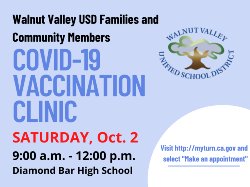 What

Vaccination Clinic for WVUSD Families and Community Members - Ages 12 and older

When

10/2/2021, 9:00 AM

–

12:00 PM

Where

Diamond Bar High School Theater
Saturday, October 2 from 9 a.m. - 12:00 p.m. at Diamond Bar High School

Hello Walnut Valley Families,

We are offering a vaccination clinic opportunity for all Walnut Valley families and community members ages 12 and older. We have partnered with Mercy Pharmacy to offer the Pfizer vaccine to anyone 12 and over and the Johnson and Johnson vaccine to anyone 18 and over. The clinic will be held in the Diamond Bar High School theater on Saturday morning, October 2, from 9:00 a.m. to 12:00 p.m.

Please click the link below for further information.